Members:


Today: 0
Yest.: 0
All: 665

On-line


Guests: 16
Members: 0
All: 16


Last:

uvitesod
---
You are Anonymous user. You can register for free by clicking here
Center for Satellite Monitoring


The Center for Regional Satellite Monitoring of Environment was created on the base of Satellite Monitoring Laboratory of IACP FEB RUS at 1999. The purpose of the Center is to receive, process, deliver and acquire of satellite data for research and economic applications. The Center and its data sets have been registered in Global Change Master Directory (NASA subdivision) and has status of the Regional Center of Russian Academy of Sciences. At the present time the Center carries out receiving and processing two types of high resolution satellite data: data of the polar-orbiting satellites (NOAA, FY-1D) for sea surface observation and the data of geo-stationary meteorological satellite (MTSAT-1R) for atmosphere monitoring. The Center has facilities to make data reception of geo-stationary satellite FY-2C. Joint processing of various satellite data allows get more complete information in time and space about sea surface and atmosphere phenomena.
| | |
| --- | --- |
| Satellite Data Catalogue | 20.12.2012 |
OGC 06-131 standard compatible catalogue of satellite data has been launched in test operation. The catalogue is accessible both via local web interface and portal of European Space Agency. At present only Level 0 MODIS data from Aqua and Terra are available.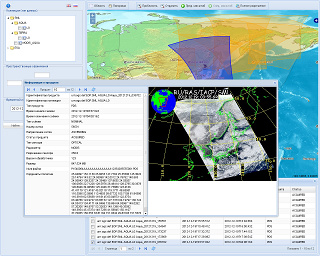 | | |
| --- | --- |
| Землетрясение в Японии | 16.03.2011 |

19/01/2008 new antenna system EOSFES was set
| | |
| --- | --- |
| Ecological monitoring of Peter the Great bay | 13.10.2006 |

According to the satellite of new generation AQUA (radiometer MODIS) trial work on ecological monitoring Peter the Great bay is lead 22.08.2006. Monitoring was spent on the basis of turbidity parameters of coastal waters and chlorophyll-a concentration which characterizes both phytoplankton concentration, and anthropogenous character of water pollution.
chlorophyll-a concentration turbidity parameters of coastal waters
| | |
| --- | --- |
| AQUA/MODIS - test of data receiving | 30.01.2006 |

The first test of AQUA/MODIS data receiving has been taken place on 24 January 2006.
This is the south-east part of Hokkaido.
The regular and equal squares are saw well on the fragment of AQUA/MODIS image.
| | |
| --- | --- |
| Regional Satellite Monitoring of Environment | 27.04.2004 |

Regional satellite monitoring of environment (RSM) is based on regular acquisition and real-time processing of digital multi-channel satellite information.
Data of TERRA
24.05.2016
of local time.
Scene include
Vladivostok town
refreshed 24.05.16 15:53
---
Data of AQUA
24.05.2016
of local time.
Scene include
Vladivostok town

refreshed 24.05.16 15:53
---
Data of NOAA
satellite
29.01.2013 11:43

refreshed 29.01.13 13:44
---
Japan Sea
23.05.2016

refreshed 24.05.16 17:06
---
North of Japan Sea
10.09.2012

refreshed 27.11.12 13:25
---
Kuriles
23.05.2016


refreshed 24.05.16 17:06
---
Sea of Okhotsk
22.05.2016

refreshed 24.05.16 17:06
---
North-West of Pacific Ocean
22.05.2016

refreshed 24.05.16 17:06